You can share an article by clicking on the share icons at the top right of it.
The total or partial reproduction of an article, without the prior written authorization of Le Monde, is strictly forbidden.
For more information, see our Terms and Conditions.
For all authorization requests, contact droitsdauteur@lemonde.fr.
Share
Sharing disabled Sharing disabled
Sharing disabled Send by email
Sharing disabled Sharing disabled
Sharing disabled Sharing disabled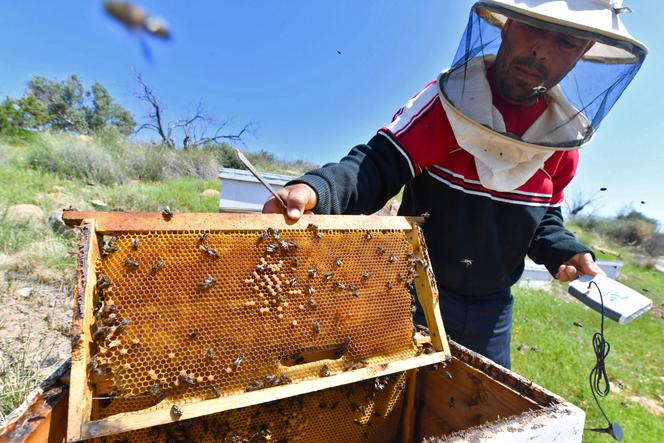 Elias Chebbi rushed over to his "smart hives." The beekeeper had received an alert on his phone thanks to an application that 100% Tunisian and a pioneer in North Africa. Its purpose is to prevent excess bee mortality and optimize honey production.
On a hillside on his family's land in Testour, northwest of Tunis, Mr. Chebbi, 39, opened the beehive window and pointed out a small white device similar to a decoder that measures variables and alerts him to any incidents, via the Smart Bee app. The Tunisian startup, Beekeeper Tech, has developed an infrared sensor device that provides continuous data on the bees' environment and their health, for "an affordable price."
The sensors measure humidity and temperature, as well as the sounds made by the insects. When there is a problem, an alert is sent. The devices even have a GPS locator to prevent hive theft. "Thanks to this, I can relax and know what is happening remotely," said Mr. Chebbi, an ex-accountant who started beekeeping in 2013. More on this topic Subscribers only Nothing fishy about clever fish being able to add and subtract
One-third loss before
It was the same year that a group of young Tunisian engineers came up with the idea of controlling beehives remotely, before launching Beekeeper Tech in 2016. The marketing phase did not start until 2020. This start-up is the only one of its kind in North Africa and has already sold more than a thousand Smart Bee devices, mainly in Tunisia and neighbouring countries. According to its CEO, Khaled Bouchoucha, there is a significant demand and the company is preparing 1,500 orders for customers in Tunisia, Libya, Algeria, Saudi Arabia and even New Zealand.
The Smart Bee device sends real-time updates to a central computer, which analyzes the data and helps the beekeeper react quickly. This technology "has proven its effectiveness" in Tunisia and other countries," said Mr. Bouchoucha, 34, who started to help his father, an occasional beekeeper. More from Le Monde Africa In Tunisia, opposition to President Kais Saied struggles to take hold
In Tunisia like everywhere in the world, bees are facing multiple threats, such as climate change, pollution and pesticides, which are causing a growing number of bee colonies to disappear. The information collected about the hive not only allows the level of danger to be assessed, but also the productivity of each queen and its resistance to climatic variations.
The application makes it possible to identify a "model hive," in order to refine the strains and replicate their way of functioning in the apiary. When the beekeeper is alerted to a problem, they can either move overheated hives to cooler areas, isolate those that are too cold, or provide a sugar solution to bees who are too weak to overwinter. More on this topic Subscribers only The bats that pretend to be hornets to keep owls away
"Food sovereignty"
Before using the app, Mr. Chebbi was losing about 30% of his hives a year to humidity and sudden temperature changes. Since becoming connected in 2017, during the Smart Bee experimentation phase, he's only lost 10%, "in the worst case scenario," he said.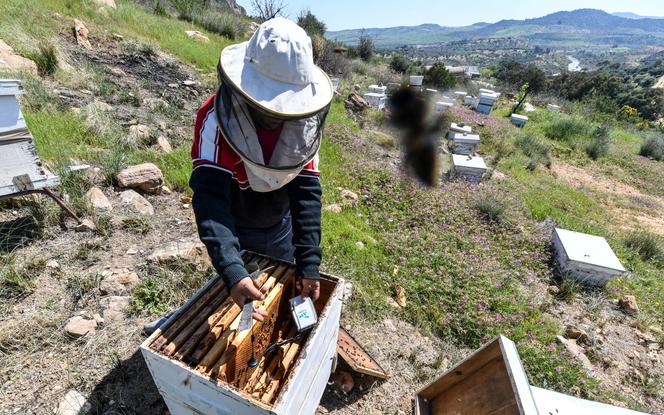 "Before, some bees were dying off gradually without me noticing soon enough," he said, noting that the task of professionals is made difficult by "a climate that is constantly changing." "Tunisia suffers from drought almost all year, which means that the bees' habitats and food disappear," he said, ensuring that he regularly finds new sites to keep them.
The "smart beehive" system has also allowed him to increase production to about 12 kg of honey per hive per year from 8 kg, an increase of about 50%. Mr. Chebbi only has two Smart Bee devices at a unit cost of about 300 dinars (92 euros), which he periodically places on each of his 100 hives but would like to be able to acquire more.
We are interested in your experience using the site.Send feedback More on this topic Subscribers only Tunisia struggles to reform its unbalanced food subsidies
This technology can "help us strengthen our food security and sovereignty. We need it badly in a world full of diseases and wars," said Mnaouer Djemali, a researcher at the National Institute of Agronomy. In Tunisia, with a population of about 12 million, the apiary sector employs about 13,000 people, according to a local agricultural union, and produces some 2,800 tonnes of honey a year.